I mentioned in the Luna post that Harlequin is starting two new lines. The first to hit the shelves is Next. It's supposed to be for Women's Fiction. The tagline is
"There's the life you planned. And there's what comes Next. Every life has more than one chapter."
It launches with four titles. All four cost $5.50. I don't know if they'll stay at this price, but if so, that's pretty reasonable. They are also all taller size paperbacks. Released on July 1st, though I expect to see them somewhat earlier.
I'm only 25, so this line is definitely not aimed at me, but I think I will probably check a couple out at the library. If they seem promising, I might pick them up (especially if they stay at $5.50).
Now I'm waiting for the Spice line to launch. Supposedly early 2006. I think it will be interesting to see what Harlequin produces in the romantica/erotica arena. You can still read an except from
M. J. Rose's
launch title,
Lying in Bed
,
here
.
Anyway, here's the launch titles for Next:
There's Always Plan B
by Susan Mallery
Carly Spencer, former perfect wife, was changing her agenda… Because Plan A—be a stay-at-home mother and wife to a successful executive—had come crashing down. And left her with no money, a surly fifteen-year-old daughter and a burning need to start again. Which brings us to Plan B… home to Chatsworth-by-the-Sea, her stately (or so she remembered) birthplace. Only, Carly and the old home had one thing in common—a need for a makeoverand some TLC. So what's a woman to do? Get to work, for starters. And as she restored her house, she was beginning to find herself… a home....
Lucky
by Jennifer Greene
Nine months ago, Kasey Crandall would have defined "lucky" as "my life." Married to a wealthy, generous older man, pregnant with a once-in-a-lifetime baby, she was oozing with joy. Now, however, she was more apt to think, "just my luck." Yes, motherhood was as glorious as she expected and she totally adored her daughter. Yet an inner voice was telling her something was wrong with her baby. But nobody wanted to hear that her life was not as perfect as it seemed.
Kasey knew she needed to be strong for her child and get her the right help…even if it meant going against her husband's wishes. Even if it meant turning to another man. Because sometimes a woman just has to make her own luck.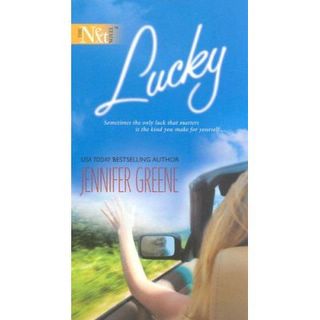 Sandwiched
by Jennifer Archer
What's a Fortyish Woman to do if...
Her free-spirited elderly mom's moving in, her previously do-gooder teenage daughter's sneaking out, her prize-winning stud bulldog can't get it on and her soon-to-be ex-husband can't get his mind off girls half his age?
A. HAVE NERVOUS BREAKDOWN
B. RUN AWAY
C. EAT MASSIVE QUANTITIES OF ICE CREAM
D. SEE A COUNSELOR
CiCi Dupree chooses C. She doesn't have time for a breakdown, can't afford to run away and she is a counselor. Until she fears her daughter—and even her widowed mother—are repeating her mistakes. CiCi realizes she has to do something, because after all, her family ties might be a bit frayed, but they still could bind nonetheless.…
Riggs Park
by Ellyn Bache
The residents of Riggs Park nicknamed her Penny, since her hair was the red of a bright copper coin… We'd all grown up in the flourishing Washington, D.C., suburb— Marilyn, me, Steve, Penny and Wish… the boy I'd loved. It was during the baby-boom years, when the future was luminous. But things don't always turn out as expected. Riggs Park had secrets, and Penny was one of them. Sometimes there's a chance to go back and right a wrong. Marilyn is convinced Penny had had a baby, and that the child belonged to her family. My lifelong friend can't follow up—she's fighting cancer. Only I can search for answers. But would finding truth break my heart…or set us all free?