Bloodrayne
-- An adaptation of the successful videogame of the same name, starring Kristanna Loken (who was the cyborg in
Terminator III
). No A-list names attached to the movie, but a bunch of good character and supporting actors, which makes me have hopes for the movie. Rayne is a half-vampire who who is trying to avenge her mother's rape by the King of the Vampires, definitely an interesting storyline.
Teaser Trailer
No date yet, but likely late 2005
The Chronicles of Narnia: The Lion, the Witch, and the Wardrobe
-- Finally got to see the
trailer
the other day at the theater attached to
War of the Worlds
. Looks like this one is going to be great. Between this and
Charlie and the Chocolate Factory
,
I think this will be a good year for intelligent adaptations of children's works.
December 9th
The Corpse Bride
-- Along with
Charlie and the Chocolate Factory
, the second Tim Burton/Johnny Depp team-up of the year. And I'm glad Burton is doing another movie with the stop-motion animation he used for
The Nightmare Before Christmas
. This one is an adaptation of a Russian folk tale where a man finds himself married to a dead woman -- creepy, but I like that Burton gothic flair.
September 23rd
Trailer
V for Vendetta
-- I showed the teaser poster before, but here is the new poster. I'm really looking forward to this graphic novel adaptation.
November 4th
2046
-- This is a Chinese movie I've heard some good things about. It will be a limited release, so I hope I'll see it in Kansas City so I don't have to wait for the DVD. Here's the blurb from Yahoo: Chow Mo Wan moves from being a gambler to a pulp fiction writer, and '2046' follows him through various liaisons with several beautiful women. Merging past, present, and future, '2046' is at once the number of the hotel room in which the couple from Wong Kar-Wai's 'In The Mood For Love' conducted their extra marital encounters, and the date of Hong Kong's final integration into China.
August 5th (limited)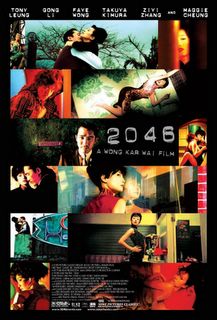 Elizabethtown
-- I just saw the trailer for this movie I hadn't heard a whole lot about. It stars Orlando Bloom and Kirsten Dunst (who I really liked in the tennis movie
Wimbledon
). Here's the blurb: After causing the Oregon shoe company he works for to lose hundreds of millions of dollars, Drew Baylor (Bloom) is fired for his mistake, and promptly also dumped by his girlfriend, Ellen (Biel). On the verge of suicide, Drew is oddly given a new purpose in life when he is brought back to his family's small Kentucky hometown of Elizabethtown following the death of his father, Mitch, as it falls to him to make sure that his dying wishes are fulfilled. On the way home, Drew meets a flight attendant, Claire Colburn (Dunst), with whom he falls in love, in a romance that helps his life get back on track.
July 29th
The Fog
-- A remake of the John Carpenter movie from 1980, being produced by John Carpenter, which I think is pretty cool. It will be interesting to see how it is re-imagined. The story is about dead sailors who come under the cover of fog and kill the residents of a small town. It stars Tom Welling, who my husband and I really like as Clark Kent in the show
Smallville
.
October 14th