I think that Chick Lit is definitely here to stay. It seems like every month, the number of them being published increases. It is starting to filter in small ways into other genres, particularly into mainstream romance. Jessica Benson's book
The Accidental Duchess
was a historical/chick lit hybrid. Then you've got mommy lit and hen lit which branched off from chick lit. Inspirational fiction has also picked up it's own chick lit arm. Romance has definitely got a new chick lit infusion, especially when you look at the success of MaryJanice Davidson. Liz Maverick had a chick lit-y book called
Adventures of an Ice Princess
.
The mystery/chick lit hybrid is one that I have noticed as well. Brava has started that new Wicked Women line which has a lot of mystery/chick lit books. Here are a few of the mysteries from chick lit publishers, Red Dress Ink and Downtown Press, that I am looking at:
Lethal by Shari Shattuck
Downtown Press, June 05
Los Angeles socialite Callaway Wilde is having her day in court -- on jury duty, that is: even supremely wealthy heiresses accustomed to the good life still have to serve in the name of justice. But on a break from the courtroom, while browsing the hushed, upscale shops of the city's Little Japan district, Cally encounters a crime-in-progress: a beautiful young Asian woman is being assaulted by a menacing thug -- and when Cally steps in to exact a little justice of her own, she takes a bullet for her troubles. Luckily, the $600 Japanese art book Cally purchased on a whim deflected the round -- confirming the importance of impulse shopping. Unluckily, the mystery behind Aya, the alluring medical student Cally rescued, has only just begun. Uncovering Aya's shadowed past is a dangerous proposition for Cally and her irresistibly sexy detective-lover Evan Paley. An even more dangerous proposition is getting closer to Evan -- Cally knows he's the one, but is she ready to trade in their open-door policy for a lifetime commitment and risk needing someone that much? The future may be decided for her as she and Evan descend into a lethal world of drugs, murder, and the sensual secrets of the geisha....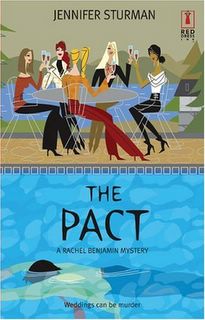 The Pact by Jennifer Sturman
Red Dress Ink, Dec 04
Rachel Benjamin and her friends aren't looking forward to Emma's wedding. The groom is a rat, and nobody can understand what Emma sees in him. So when he turns up dead in the morning of the ceremony, no one in the wedding party is all that upset. Not even Emma. Rachel, who had the good fortune to find Richard floating facedown in the pool, is feeling as if she's woken up in an Agatha Christie novel. It doesn't help that everyone around her seems to have a motive for murder. So, while the cops detain Emma's family and friends at her isolated Adirondacks compound for the weekend, Rachel, an investment banker by trade, makes like Miss Marple (minus the gray hair and sensible shoes) and does some digging of her own. Her investigation gets especially tricky when Peter Forrest, the too-good-to-be-true best man, turns out to be the number-one love interest and her number-one suspect. And Rachel can't help remembering the solemn pact she and her friends made back in college--a promise to rescue each other from bad relationships, using any means required. Has someone taken the pact too far?
Sex, Murder and a Double Latte by Kyra Davis
Red Dress Ink, May 05
When a mystery writer cries bloody murder, everyone blames her overactive imagination . . . Thriller scribe Sophie Katz is as hard-boiled as a woman who drinks Grande Caramel Brownie Frappuccinos can be -- maybe it's from a lifetime of fielding dumb comments about her half-black, half-Jewish ethnicity. ("My sister married a Polynesian! I just love your culture!") So Sophie knows it's not paranoia, or post-divorce, living-alone-again jitters, when she becomes convinced that a crazed reader is sneaking into her apartment to reenact scenes from her books. The police, however, can't tell a good plot from an unmarked grave. When a filmmaker friend is brutally murdered in the manner of a death scene in one of his movies, Sophie becomes convinced that a copycat killer is on the loose -- and that she's the next target. If she doesn't solve the mystery, her own bestseller will spell out her doom. Cursing her imagination (why, oh, why did she have to pick the axe?), Sophie engages in some real-life gumshoe tactics. The man who swoops in to save her in dark alleys at night is mysterious new love interest Anatoly Darinsky. Of course, if this were fiction, Anatoly would be her prime suspect . . .
Dating Can Be Deadly by Wendy Roberts
Red Dress Ink, Feb 05
Some gifts are easy to return-like the parrot earrings from Aunt Ruth-but when your gift is clairvoyance, Tabitha Emery finds there is a definite No Refund Policy. Now she's having visions of black magic rituals and dismembered bodies, and she's not sure what to do. She didn't ask for this talent and certainly doesn't want it, but it clings to her like a thong and is just as uncomfortable. Tabitha's goals are simple ones: A) to rise above law office receptionist B) to spend Friday nights uncovering the mysteries of butterscotch schnapps with her comrades, and C) to procure more than a passing glance from Clay Sanderson (Greek-god-type lawyer). But her second sight has turned her life upside down-and now she finds herself in the middle of a murder investigation where the only clues are in her persistent premonitions-making her not only the key to solving the mystery but perhaps a suspect, as well. (On the plus side: she could use some legal advice, so now she and Clay have something to talk about.) And somewhere in the middle of all this is the real culprit, the mystery man, who wants this clairvoyant dead. .
Dirty Little Secrets by Julie Leto
Downtown Press, June 05
When Marisela Morales sets out to stop her ex-boyfriend Francisco Vega from skipping out on bail, she has a secret agenda: revenge. She hasn't seen Frankie in ten years, and back then, he broke her heart, choosing his gang over his girl. So when she tracks him down in their old haunt, a hot dance club in Tampa, she sets about seducing him into her trap. Frankie has a secret agenda, too, and Marisela soon faces a tough choice: continue drifting through her twentysomething life -- hitting the same town with the same girlfriends every weekend while struggling to find a job and pay the rent -- or dive headfirst into danger with her ex. Frankie operates in a treacherous underworld full of arms dealers, assassins, and sinister agendas -- a world overrun with people keeping dirty little secrets -- and only Marisela has the cojones to fight her way to the truth.
The Givenchy Code by Julie Kenner
Downtown Press, June 05
As if a recent break-up, scrounging for rent money, and lusting after designer shoes weren't enough to make graduate student Melanie Prescott's life challenging, suddenly she's practically living The DaVinci Code. A mysterious stranger is sending obscure codes and clues her way and she soon discovers she has to solve them in order to stay alive. With stakes like that, her dissertation on "the derivation and primary characteristics of codes and ciphers used by prevailing nations during wartime" is looking a little less important than it was yesterday. Right now she's just worrying about living to see tomorrow. The only bright spot in the whole freakish nightmare is Matthew Stryker, the six-foot tall dark and handsome stranger who's determined to protect her. Well, that and the millions of dollars that will be her reward if she survives this deadly game. And she'd better survive. Because that's a heck of a lot of money to be able to spend on shoes and handbags and sunglasses and dresses, and, well, it's hard to be fashionable when you're dead.

Killer Summer by Lynda Curnyn
Red Dress Ink, June 05
Three friends. One dead body.
The summer they'll never forget . . .
Sharing a beach house on Fire Island seems like a killer way for best friends Zoe, Sage and Nick to spend summer together. But just as they're dreaming of sunset margaritas and late-night barbecues, the body of their house hostess washes up on the beach. Talk about a buzz kill . . .
Now all Zoe can think about is why the "grieving" husband is planning parties rather than mourning his wife. Nick suddenly has secrets he can't tell a soul. And Sage is trying to score booty as if it's her last summer on earth . . . which it just might be. Because despite the ocean views and endless parties, Zoe, Sage and Nick have stopped wondering if the good times will last and started wondering if they will . . .