The Legend of Zorro
-- I know I already mentioned this one, but the teaser poster was the only poster available before. The new posters for the movie were released last week. I think they are both excellent.
September 23rd
Cars
-- This one isn't out for a while, but I saw the teaser trailer before The Incredibles. It looks like it will be cute, as usual with Disney/Pixar movies.
Jue 9th, 2006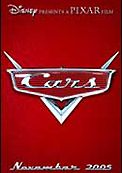 The Da Vinci Code
-- This was a big book, and I think it will probably be a big movie. Ron Howard directing, starring Tom Hanks, Ian McKellan, Jean Reno (from the Professional), and Alfred Molina so far.
May 19th, 2006
Flightplan
-- Jodie Foster's next big movie. Sean Bean will be in it too, as the Captain. Foster's daughter disappears mid-flight, and everyone thinks she is crazy.
Fall 2005
Harry Potter and the Goblet of Fire
-- This is probably my favorite book in the series. I'm looking forward to the dragons, and tons of other things. The book was long, so I know a lot will be cut, but that will be okay. Yet another new director, Mike Newell. The official
website
is up, with a teaser trailer.
November 18th
Kiss, Kiss, Bang, Bang
-- Looks like an interesting movie. "A petty thief (Downey) posing as an actor is brought to Los Angeles for an unlikely audition and finds himself in the middle of a murder investigation along with his high school dream girl (Monaghan) and a detective (Kilmer) who's been training him for his upcoming role..."
Sometime in 2005
Land of the Dead
-- The fourth movie in George Romero's zombie series, the zombies have taken over the world and the few survivors try to stay alive in a walled city, but the zombies start to mutant, and some of the survivors are unstable.
June 24th